Is there anywhere in the world, I wondered last week, which like the old Palace of Westminster
a) was a palace complex built by a Norman king
b) had a royal chapel as glorious as St Stephen's, with an adjoining cloister
c) contained a royal bedroom as stunning as the Painted Chamber
d) was turned into a Parliament building when the royals moved out
e) but unlike the English version, still survives today?
And in a strange, Easyjet-induced gelato di pistacchio dream I discovered that Yes! such a place exists: the Palazzo dei Normanni in Palermo, today the Parliament building of the autonomous regional assembly of Sicily.
Behind the grim Norman exterior lies a beautiful jewel of a palace as
lovely as the old Palace of Westminster must once have been, full of spectacular mosaics,
and marvellous medieval carpentry and metalwork, including the Capella Palatina and the Camera Re Ruggero.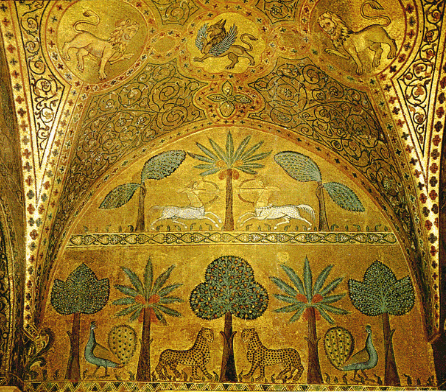 More information on the Assemblea Regionale di Sicilia.