I blogged this time last year about the snuff boxes made from salvaged wood from the old Palace which still occasionally turn up at antique dealers, and early in 2013 about the mysterious ornaments made from stonework of St Stephen's for the delight of antiquaries.  Now I'm thrilled to report that this week I acquired two pieces of fabric from the old Palace for myself.
The first object I've treated myself to is another snuffbox, smaller than the previous ones I blogged about, but perfectly formed.  Made from oak again, its little silver label is inscribed 'Painted Chamber | 1834 | Oct 16th'.
That makes three snuff boxes that I know about from the Painted Chamber, and just one from the House of Commons (formerly St Stephen's Chapel).  This isn't obviously a robust statistical sample, and the prevalence of Painted Chamber wood may just be a co-incidence.  On the other hand, the Painted Chamber had a very large and famous wooden ceiling before the fire, so perhaps more fragments survived there than from St Stephen's, or an enterprising woodturner took away a particularly large timber to work on.  There's only one way to find out, and that is for anyone else with a snuffbox from the old Houses of Parliament to get in touch with me to help test out my theory – please.
In the final chapter of The Day Parliament Burned Down I described how:
Other relic hunters could make their way to Mr Doubleday's in Little Russell Street near the British Museum.  There, two kinds of souvenir of the old Palace were on sale.  The first were oak boxes made from a beam under the Painted Chamber, each inset with a brass escutcheon made from a melted brass chandelier from the House of Lords.  The discerning could also obtain an oval seal cast from lead allegedly from St Stephen's roof, and displaying the figure of St Stephen, with canons of the college praying before him and the Virgin Mary and St John. (p247)
I now am the very proud owner of such a lead medallion.  It's about the size of a dessertspoon bowl, and cast just as described above.  On the right hand side is a small 'eye' to allow it to be threaded – I assume – onto a chain to act as a watchfob or similar, and it is no surprise that Doubledays dealt in casts of old seals and greek coins, presumably for just such a purpose.  The obverse shows the figures described above, and sure enough, the reverse is inscribed:
SEAL | ST. STEPHEN'S | CHAPEL | WESTMINSTER | CAST FROM LEAD | TAKEN OUT OF THE | RUINS OF THE FIRE | OF THE NIGHT OF THURSDAY | OCTOBER 16 1834 |
J. DOUBLEDAY | DEALER IN | CASTS OF OLD SEALS | GREEK COINS | 18 LITTLE RUSSELL STREET | BLOOMSBURY. | LONDON.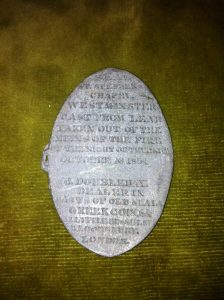 These two objects popped up independently but within a day of each other, much to my amazement (perhaps like buses they come in threes after a long wait…so I'm still hoping for a third offer any time soon).  The snuffbox came from a dealer who had googled and found this site after puzzling over the inscription on the box.  So please, do get in touch if there is more memorabilia out there – I would love to hear about it.