Today is the 200th anniversary of the day when the British Prime Minister, Spencer Perceval, was assassinated in the lobby of the House of Commons.
He was shot at 5.15pm at point blank range on 11 May 1812, by John Bellingham, a deranged shipping agent driven mad by his attempts to get the government to compensate him (or even recognise his claim for compensation) for being illegally imprisoned in Russia between 1804 and 1809.
The accounts of Perceval's death are very consistent. Following the shooting he is carried by William Smith MP and Francis Phillips and others, into the study of the Speaker's Secretary, John Rickman. He is placed sitting upright on a table supported by the two men (certainly not what first aiders would advise today!). He utters only a 'few convulsive sobs' (or gurgles as we might say) in the immediate aftermath, but then is silent, surviving for only three or four minutes longer.
Smith, the MP, feels for a pulse. There is none. The Prime Minister is dead at 50, leaving 12 children and his wife Jane. William Lynn, a surgeon of Great George St nearby is called to the scene, and arrives around 15 minutes later. He examines Perceval. There is blood all over the PM's coat and his signature white waistcoat. He confirms that Perceval died very quickly from a three inch wound over his fourth rib on the left, presumably shot through or close to, his heart.
After Perceval died, he was removed from the table to a sofa in the Speaker's drawing room. Lord Redesdale his brother in law broke the news to his wife at home. The body was taken to 10 Downing St at 1am in the morning. A death mask was taken of the dead premier. Jane Perceval was in shock for days after.
Dramatic events, political assassinations not excepted, give rise to all sorts conspiracy theories and self-generated myths, and here's one of them.
Until very recently, the table above, now in the Speaker's House in the new Palace of Westminster, was said to be the one on which Perceval died, and to be stained with a drop of his blood. But during research for The Day Parliament Burned Down I puzzled for quite a while over this piece of furniture. It is enormous, and very heavy and bulky. I couldn't understand why in, some newspaper reports of the 1834 fire, the table on which Perceval died – and which had clearly become some sort of ghoulish relic – was said to have been removed from the Palace and to be residing in an avenue nearby. I couldn't quite believe there would have been time to dismantle this huge item and evacuate it. I also couldn't believe the story of the drop of blood because a) Perceval was shot in the chest and there was an awful lot of blood, not just a small drop and b) why would it stain a well-varnished table anyway and c) what servant wouldn't have wiped such a table clean very carefully of all such stains afterwards – or arranged its repolishing – to make it usable again?
Eventually I worked out that the story of this table is is a bit of romantic nonsense. In a list of furniture salvaged from the 1834 fire – 22 years later – a distinction is made between this table (rococo, mahogany, and known as 'Cromwell's' table – also romantic invention but that's another matter) and what is described as 'Perceval's table' (an oak writing table). Obviously, it must have been the oak table which was the one Perceval died on – its whereabouts today are unknown, while the mahogany table has taken on historical associations beyond what is actually the case. The oak table, incidentally, is not described as being stained either. Any obscure 'stain' on the mahogany table in the Speaker's House is an ink blot or knot in the wood. And it was known to have been in the Cloisters – specifically the Lower Oratory or Chapter House – during the fire (of which only half was damaged), so was perhaps there throughout the blaze, covered with tarpaulin, and re-shellacked afterwards following heavy water damage. It's fairly obvious from the photo that the top is different to the the base, suggesting that a ruined surface underwent some restoration, but we'd need a furniture historian to confirm this.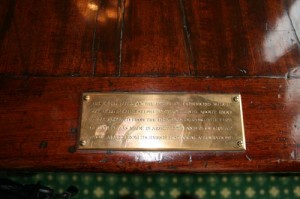 Note that the brass plaque on the table (obviously a later addition) refers only to its 'historical associations' , not specifically to the 1812 murder. These associations relate more correctly to the fact this is an ancient piece of furniture, dating from before the 1834 fire, and on which various generations have wanted to imprint their own romantic notions about its history. Sometimes myth-busting is as interesting as believing the myths themselves, because they tell us a lot about what later generations want, or are prepared, to believe.
By the way, there's another 'grassy knoll' myth doing the rounds about Spencer Perceval's assassination, and that's one that states the site of the murder is marked by two floor tiles in the present St Stephen's Hall having been laid in reverse as a mark of respect. I'm afraid that isn't the sign of a Prime Ministerial murder, only a sign of careless tilers…